Ipswich and Watford hospital lead the way on a great new initiative
'Thank you for showing me life outside my bubble'
National Citizen Service student, on visiting older patients at Watford Hospital, through Kissing it Better
Yesterday , for the third week running, and with two more weeks to go, a fabulous group of over 80 students from Elevation Networks' National Citizen Service ( NCS) programme, and their group leaders, had the most enormously positive impact on patients, visitors and staff in a hospital. Ipswich hospital are still talking about the visits they had earlier this month, and now it is Watford Hospital's turn to benefit from the compassion, care, fun and commitment of hundreds of 16-18 year olds who have given their time freely to make a difference to those less fortunate than themselves. By the middle of August, around 400 students from across St. Albans and Hertsmere will have offered a similar 'gift' to patients.
Watford Hospital, Elevations Networks' National Citizen Service ( NCS) programme and Kissing it Better working together to make a difference
Meticulously prepared for what they might expect to deal with on the wards, during their hours of induction many students freely shared some of their innermost thoughts when faced with the unexpected in life, and quickly saw how those experiences might compare with those of a frightened , anxious patient in hospital. There were both tears and laughter as they recalled and shared some of their personal moments of acute embarrassment, discomfort and stress. Through sharing those stories and then relating them to the possible thoughts of frail, older people on the wards, many of whom do not have the ability to effectively communicate their feelings, they gained, I hope, a sense of what might be going through those frail patients' minds as they lay in their beds, often not truly understanding where they were. Through role play in both the morning and afternoon sessions, including becoming an Alzheimer's Society trained 'Dementia Friend' , they gained a sense of the fears and anxieties felt by relatives, often struggling to come to terms with what their future may hold as they deal with the declining health of a loved one, especially those near the end of their lives and those who have dementia, or, as the students learned, both.
Arriving on the wards with their sensitive smiles and enthusiasm, and supported by many members of the 'Patient and Public involvement team' at Watford hospital, including many from the Kissing it Better team, the students lifted spirits from the start. Most older people, we find, do not want to talk about being old, but would far rather recall and share memories of their own younger days. It is always so moving to see younger people look surprised and, sometimes, shocked by the antics of an older person who recalls growing up in a time where endless rules about health and safety etc, did not inhibit what they did. Life was, unquestionably, less 'safe' in those days, with rules about health and safetly being almost non-existent, but the fun and freedom those older people enjoyed, and the many lessons they learned, often the hard way, as a consequence, left many of the students wide-eyed and, on many occasions, helpless with laughter.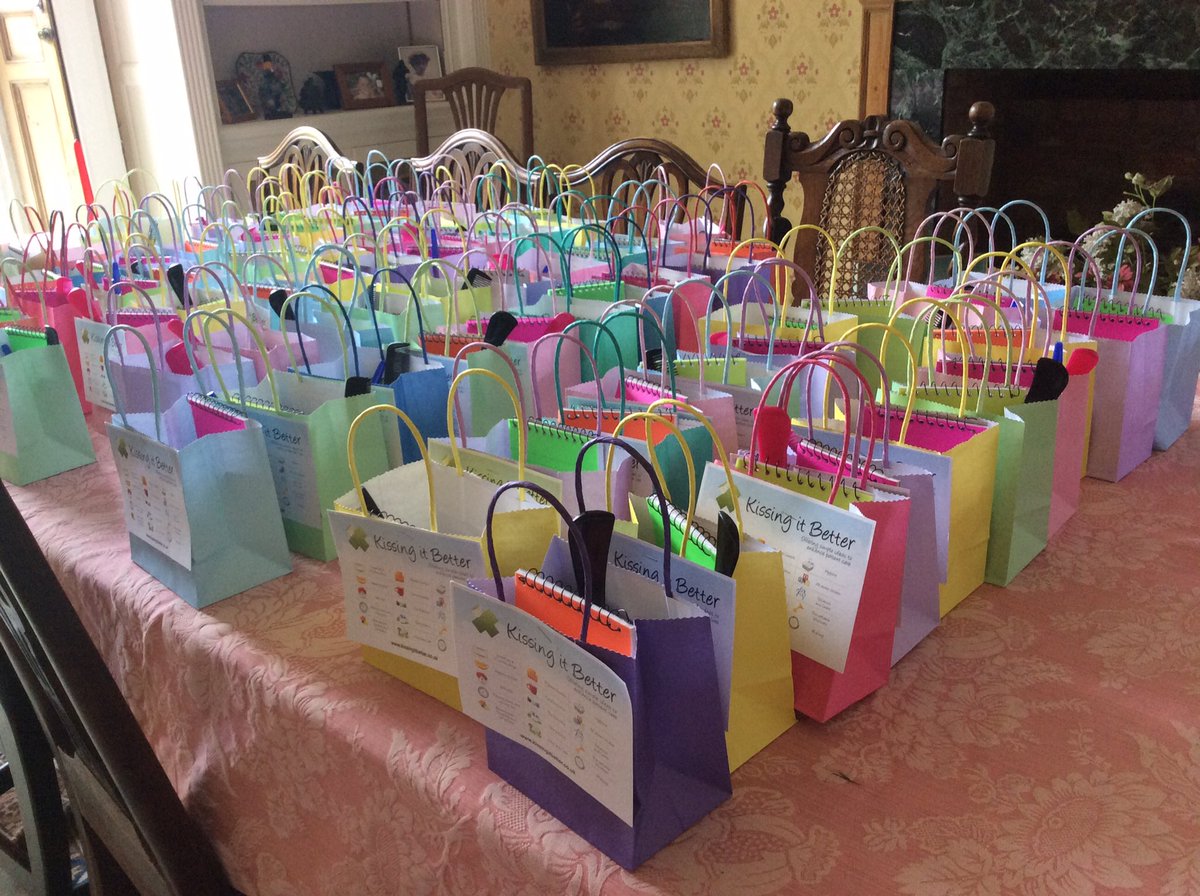 Just some of the hundreds of Kissing it Better goodie bags NCS students offered to patients as part of their visit to Watford and Ipswich hospital
For people in hospitals and care homes, the opportunity to share their long term memories with someone new is limited. Fellow patients often have complex communication issues making conversation almost impossible. Busy ward staff are, sadly, rarely in a position to stop and chat for any length of time. So, when a young person , with time to spare, and great hearing, speech and sight, listens with enthusiasm, the positive effect it has on that older person is enormous and can, and mostly does, leave a legacy of happiness, including a sense of being valued, for the rest of that day.
Kissing it Better believes there must be rules, although we often challenge their interpretation. Patients, visitors, staff and wonderful NCS students must be looked after in a way that ensures the safety of all. I believe, passionately, that through effective preparation, and a team of qualified people around to keep a watchful eye on everyone, at all times, we do everything possible to create that 'safe' environment.
Across the country, it is almost impossibe for young people to get work experience on a hospital ward for any length of time. Yet for the students and the patients, the value of that experience is incalculable. Through the wonderful work of Elevation Networks, those NCS students not only gained a true feeling of how much they can help, they also understood that the opportunity they gained yesterday could be something that they could do, through Kissing it Better, on a regtular basis, either during termtime, the holidays or both - and gain an qualification at the same time.
With many families spread across the world, huge numbers of young people grow up with very limited contact with their older relatives. They miss out on the opportunity to listen and learn from their many vital life experiences . In turn, many older people miss their grandchildren and the chance to tell them what they learned through their own experiences of growing up.
It continues to be a great privilege to work with the team of people from Elevation Networks who deliver the local NCS programme in St. Albans and Hertsmere. They help us to put the wellbeing of the most vulnerable in their community at the heart of what we do. It is also so refreshing to work in an environment where students are stretched in a way that challenges their own thoughts and capabilities.
Yesterday, as in the previous two weeks, I saw how much everyone ( patients, visitors, staff and students) gained from that experience. I look forward to the remaining two sessions and, hopefully, many more to come.
**NCS is a once in a lifetime experience for 15-17 year olds to make amazing friendships, learn skills they don't teach you in class and create unforgettable memories.
Jill